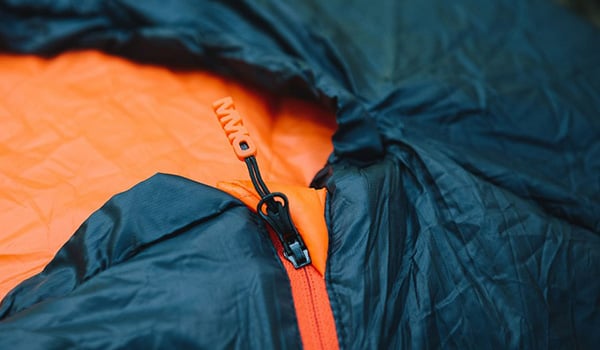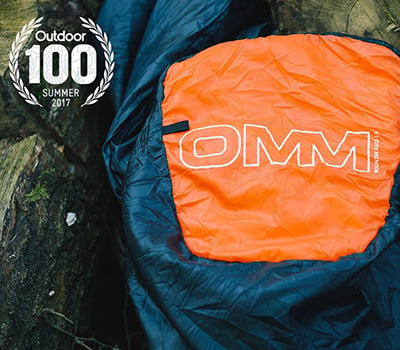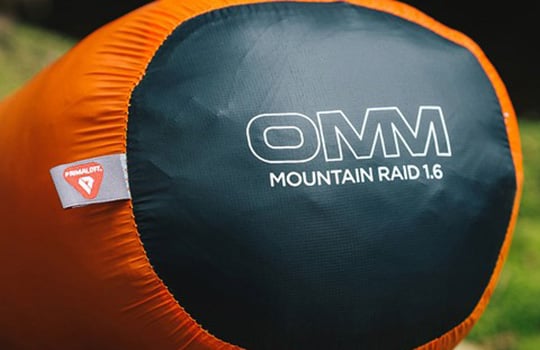 PRIMALOFT® CROSS-CORE GOLD 60/40 g/m2
The Mountain Raid uses the highest grade PrimaLoft® Gold with Cross Core synthetic insulation alongside incredibly strong yet light fabric to create the optimum sleep system for competitors and fast packers.
The minimalist bag for the purist. The shell is constructed from our own windproof PointZero fabric with DWR (Durable Water Repellancy) giving a good degree of water resistance when your pack takes a dunking en route to camp.
PrimaLoft® Gold with Cross Core provides the best warmth to weight ratio available on the market. We take this high quality insulation and map different weights per panel to ensure the best usage of the fill. The base sheet is filled with PrimaLoft® Cross-Core Gold 40g/m2, whilst the top layer, above the sleeper, is 60gm/2 (giving us the 100g/m2 total in the name). Mapping the insulation in this way allows us to achieve such a low pack weight, there is no point placing excess wadding (and therefore weight) beneath the sleeper, as the weight of their body will compress it and reduce its ability to trap air and insulate. Instead, we focus the warmth on the top sheet and leave it up to you to decide what mat to use to insulate you from the ground.
The footbox is shaped and filled with PrimaLoft® Cross-Core Gold (60g/m2) to keep the feet toasty warm.
The PointZero outer shell is loose laid, with the fill stitched through to the lining, to eliminate cold spots and keep the insulation stable.
PrimaLoft® Cross-Core Gold is made from 90% post consumer recycled content
Unlike down, synthetic fill retains its loft when wet. Down is still the best warmth to weight when dry but PrimaLoft® Gold with Cross Core technology is now a close second place and certainly preferable in wet conditions.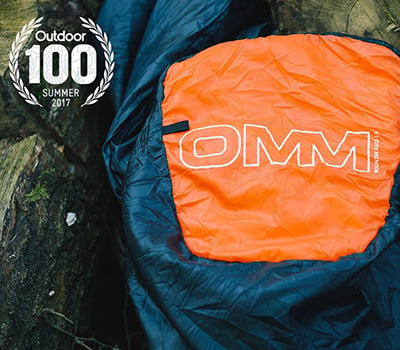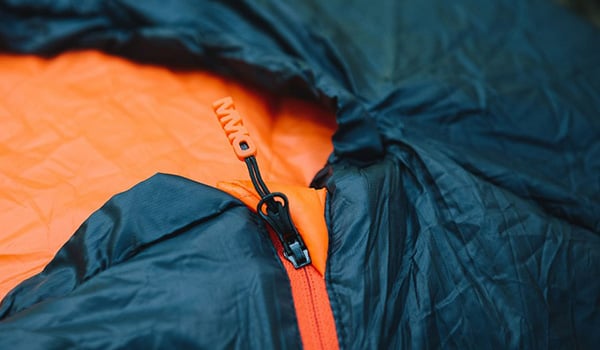 Inkeeping with minimal weight, Mountain Raid 100 has only a half zip, to allow venting and aid access. The zip is offset to the right so it can easily be reached when closed in.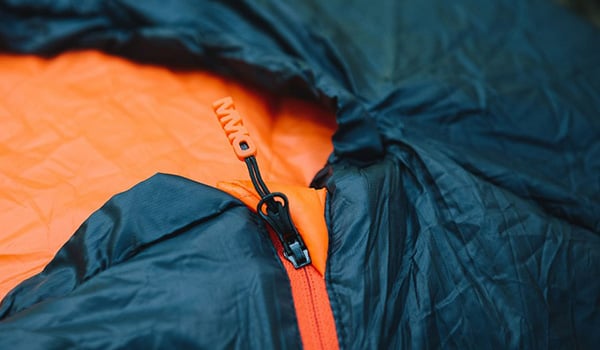 OMM's PointZero fabric is used for the inner and the outer. This super lightweight fabric protects from drafts in a vented tent and by using both inside and out, prevent air movement around the insulation fibres, which can cause shearing of the heat away from the body.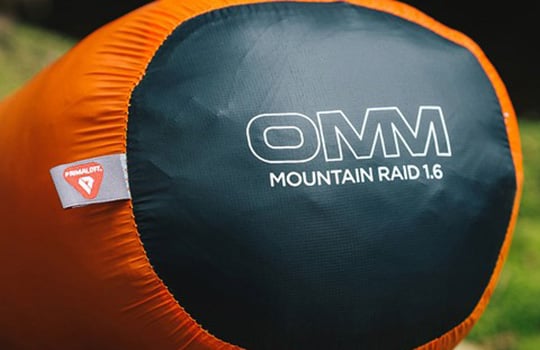 Thicker insulation top than base
for maximum efficency
Half YKK zip
DWR (Durable Water Repellancy)
90% PCR (Post Consumer Recycled content)
3.0/2.2 tog (dry/wet)
Stitched through inner with
loose laid outer
Mummy shape
Shaped footbox
Hood drawcord
Fast drying easy care
Hang loops at base
Length: 195cm
Shoulder Width: 65cm
Foot Width: 35cm
Pack Size: 19 x 12cm
Colour: Black/Orange
Fabric: PointZero (Nylon), PrimaLoft® Gold 40/60g/m2
Weight: 380g