HYDROSTATIC HEAD 20,000mm
OMM invented stretch waterproofs a little over 20 years ago, we've improved on the technology over the years to reduce weight improve breathability and add features but the formula has stayed the same. Now in its 5th generation the latest Kamleika builds upon decades of design and thorough testing in the harshest of races.
The Kamleika takes the athlete onto the mountain with a shell layer that protects from wind and rain whilst stretching to give freedom of movement and so aiding athletic performance. Highly breathable, lightweight and durable thanks to the Nylon face fabric.
Kamleika is the choice for people who have recognised that they may have to wear a waterproof all day and yet still head for the fells anyway.
A fully featured mountain shell designed for training and racing in bad weather
We released the world's first stretch waterproof shell over twenty years ago and have been perfecting the technology ever since.
MOUNTAINEERING MEETS RUNNING
The Kamleika offers features normally the reserve of mountaineering shells, to give you confidence when moving up high in bad weather. Expect adjustable cuffs with integrated thumbloops, adjustable hood and dynamic droptail.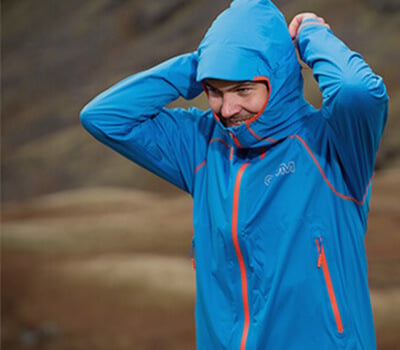 THE JACKET THAT HAS DONE IT ALL
Kamleika is an institution for mountain runners and one that they carry with them to the Spine, Dragon's Back, UTMB, Tor Des Géants and, of course, the OMM.
Waterproof
Windproof
Breathable
Fully taped seams
Adjustable peaked hood with internal cradle
Active Cuff with thumb loops
Dynamic Droptail
Reflective detail (front sleeve & back)
Full length YKK Aquaguard zip
Two large hand/map pockets
Zip garage on all zips
Colours: Dark Grey, Yellow, Navy, Blue
Fabric: Nylon
Weight 265g
Sizes XS / S / M / L / XL
Your Title Goes Here
Your content goes here. Edit or remove this text inline or in the module Content settings. You can also style every aspect of this content in the module Design settings and even apply custom CSS to this text in the module Advanced settings.
What is Hydrostatic Head?
 A measure of a fabric's waterproofness. Refers to how high a column of water, measured in millimetres, a fabric can withstand before allowing water through. Higher the number, the more waterproof the fabric.
Waterproof and Breathable?
 Breathable means the fabric allows transfer of water vapour. Driven by a difference in humidity either side of the fabric, measured in g/m2 over 24hrs. Waterproof means the membrane doesn't allow water droplets through from the outside and is measured in Hydrostatic Head (see above). This is acheived using a membrane which is a selectively permeable barrier. In fabrics, a waterproof membrane has holes big enough to allow water vapour through but small enough to not allow water droplets in and so remain waterproof yet breathable.
Which Outer Layer Do I Need?
 Well that depends, doesn't it! What is it for? Plodding around in heavy rain all day with a pack on or to carry just in case or to satisfy kit check? Do you value weight saving and low pack size over breathability and features? Do you want bells and whistles or stripped back performance? Does it need ot be waterproof at all or would a windproof do? The Kamleika is a soft and stretchy option with lots of freedom of movement and incredible comfort for a waterproof shell, it is full adjustable with full length zip and pockets. The Halo is a super-light option that still offers fully waterproof protection but with reduced breathability and durability, perfect for racing or when weight is key. The Kamlite uses a mixture of both fabrics to optimise performance. The Sonic range is windproof but has no membrane so i very breathable but will eventually let rain through. When choosing your Outer Layer, consider your priorities and then compare across the ranges. WE also have a useful comparison table on each product page. 
How do I care for my Outer Layer?
 Just like owning a top end sports car, a performance Outer Layer is only as good as how well you care for it. In the same way a sports car still needs oil changes and screen wash, you need to regularly maintain your OMM Clothing to keep it performing at its best. It is important to follow the Product Care Instructions and use the correct wash and proofer product as these can affect your clothing's performance. Check out our Product Care Guide for more information.