Slide WHAT IS "THE OMM"?
The OMM is designed to test your abilities in the mountains. Anyone can get up Scafell Pike on a sunny day, but can you make good decisions when the clag comes in, visibility has gone, you're tired, you're wet, cold & there's no paths to follow? 
Held at the end of October to guarantee bad weather. To compete you'll need a team mate, mountain experience & dogged resilience. 
It's all about decision making, what kit you'll need, what route to take, how hard to push & what to do when you get lost… which you will.
It's not easy, at times soul destroying, but the

experience is unmissable!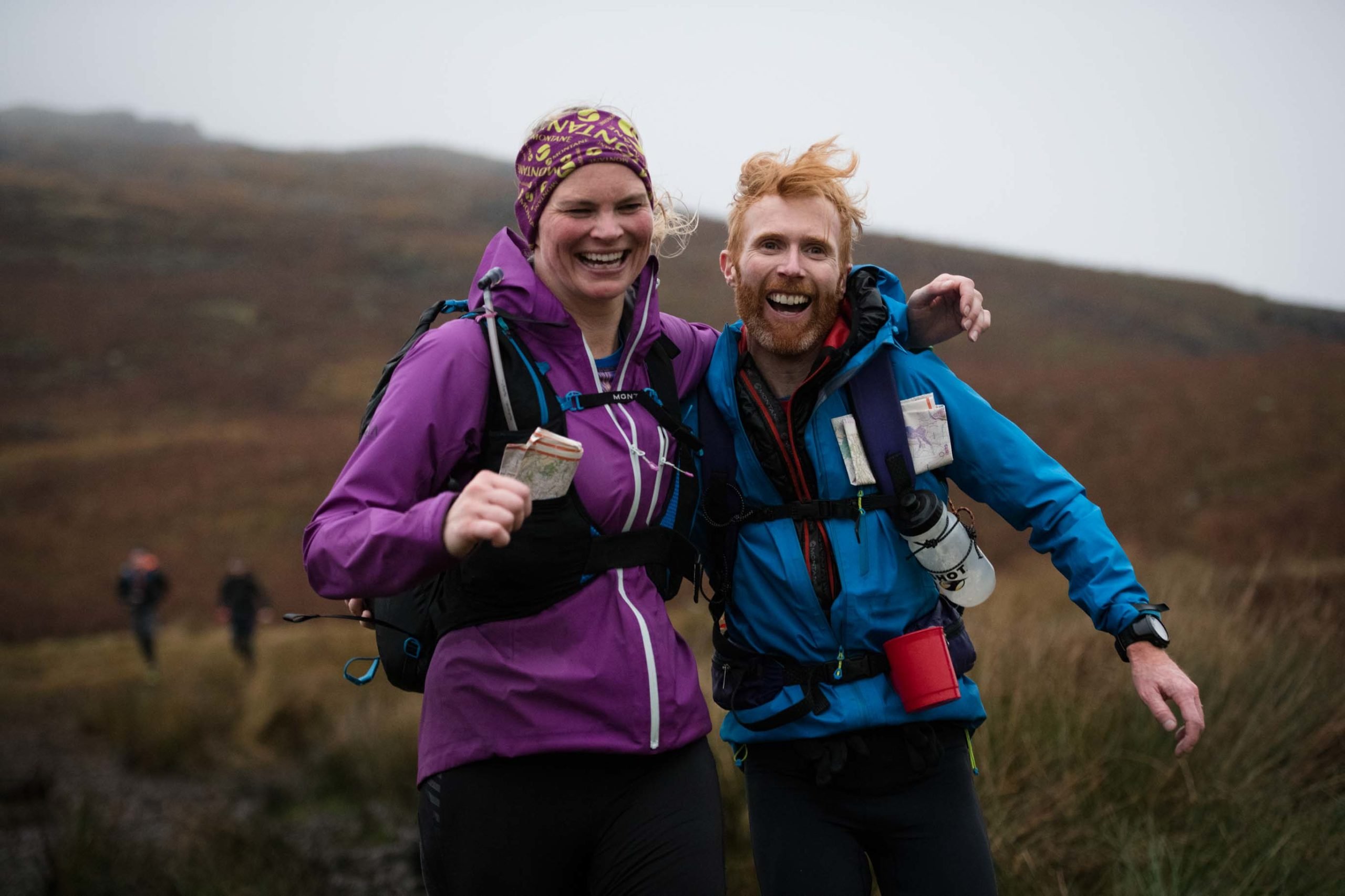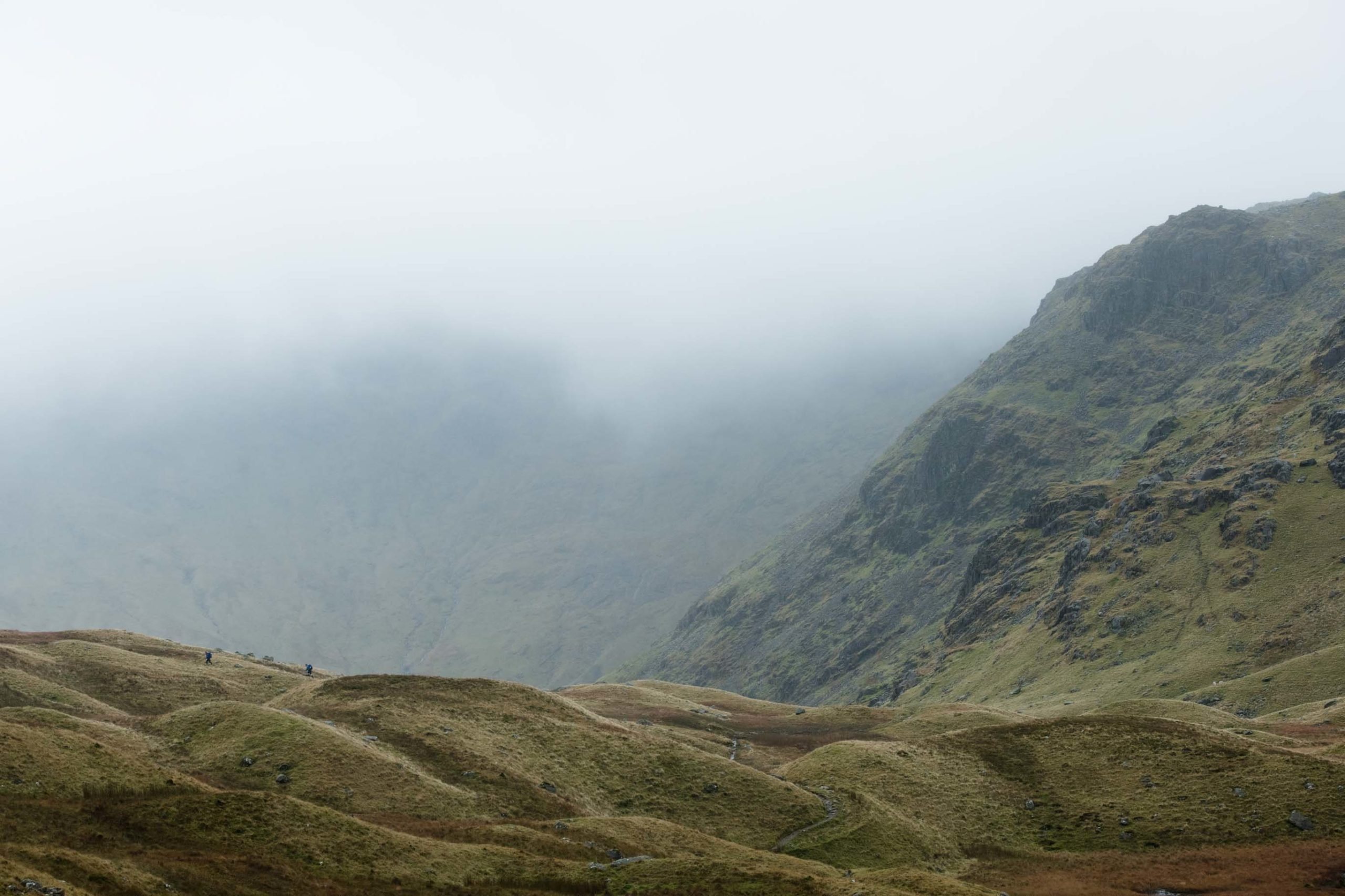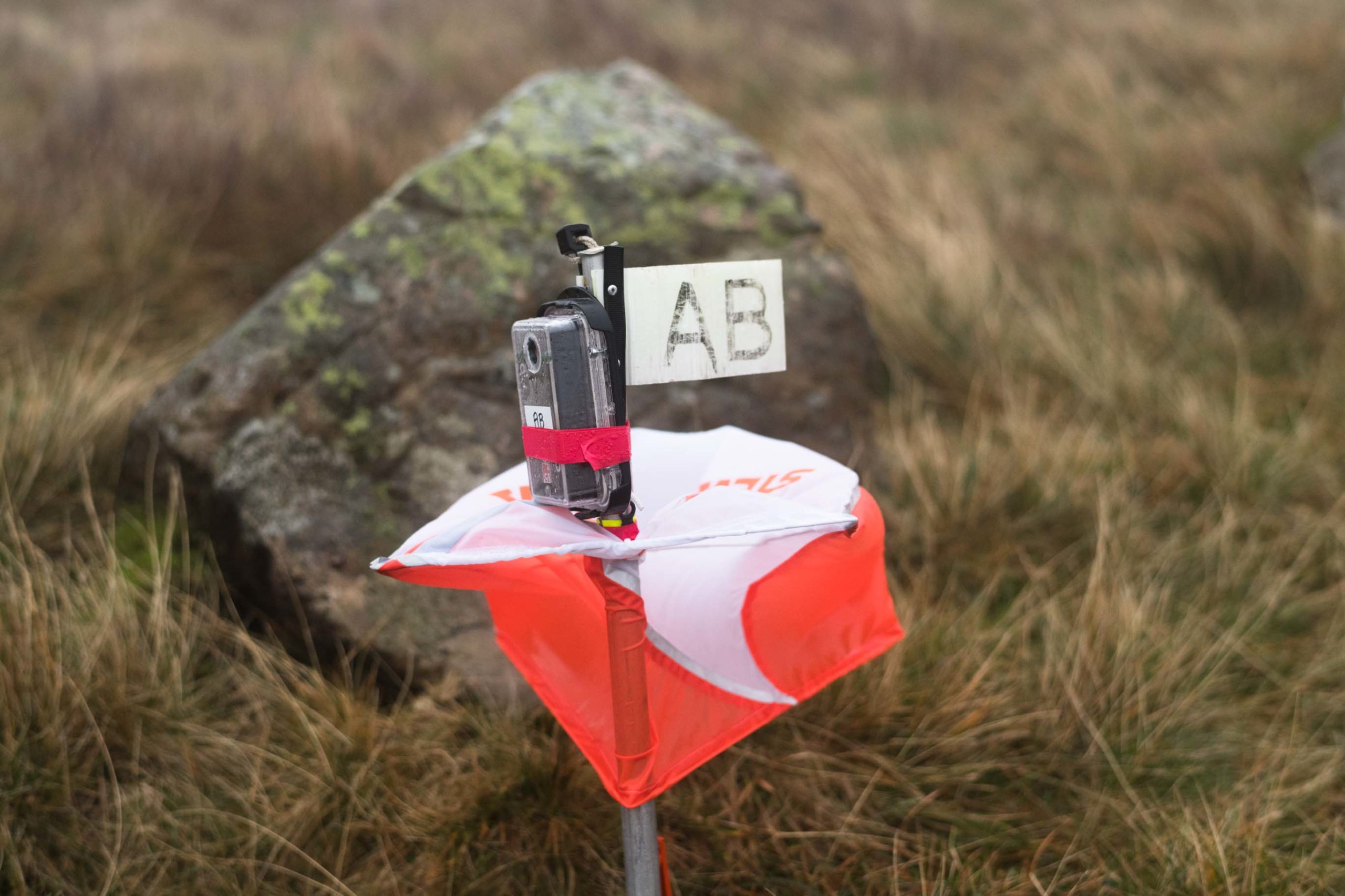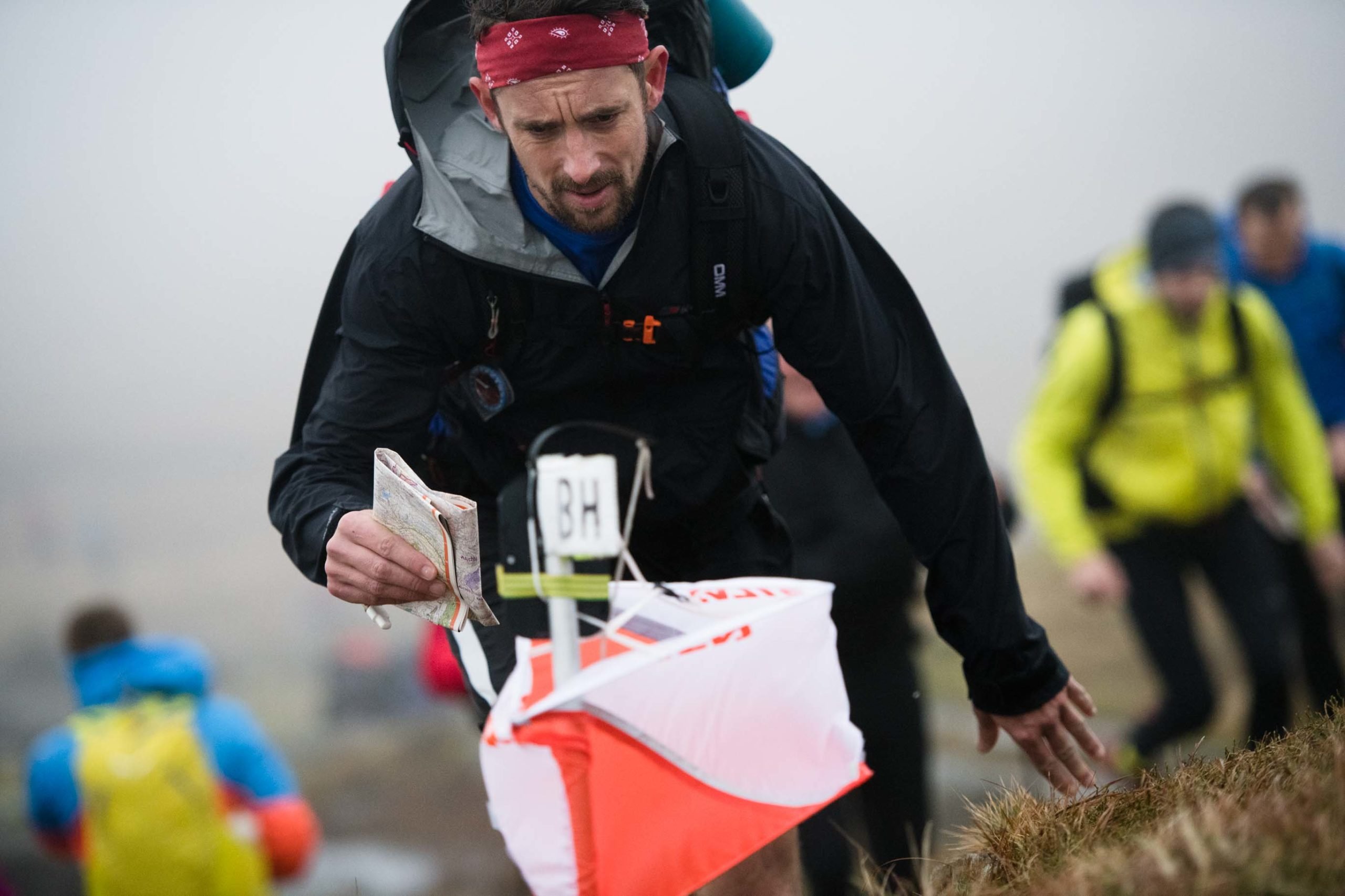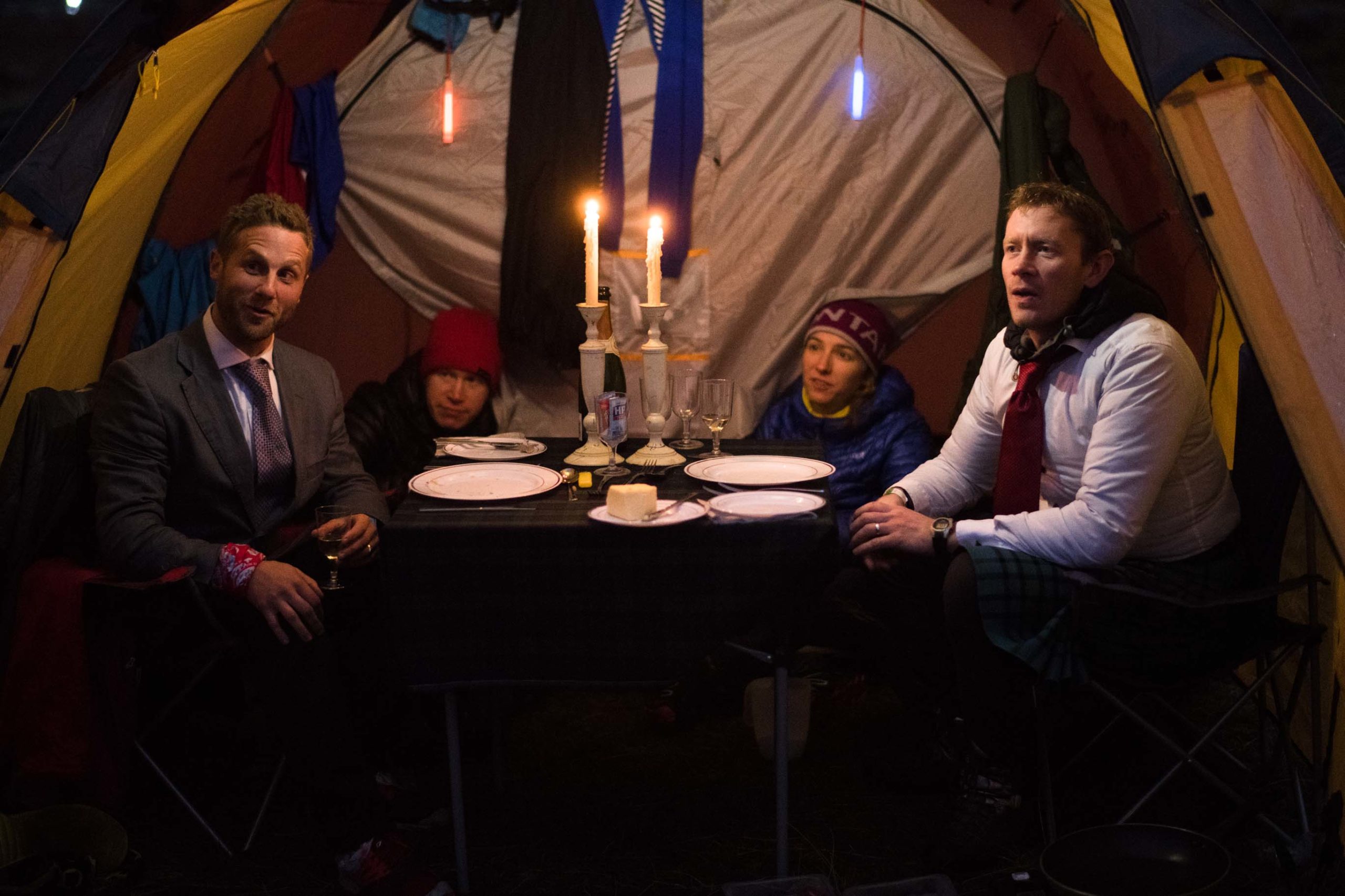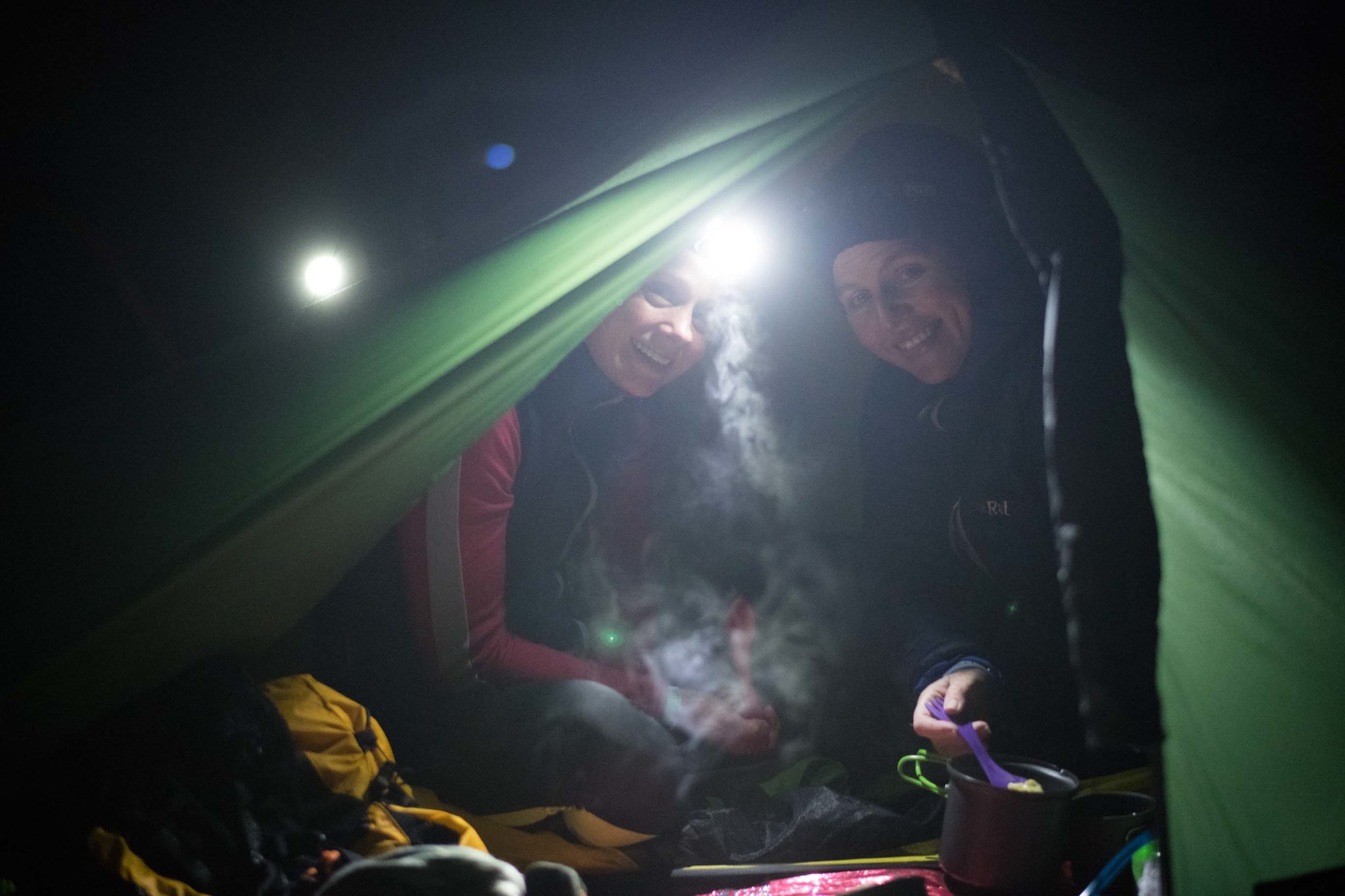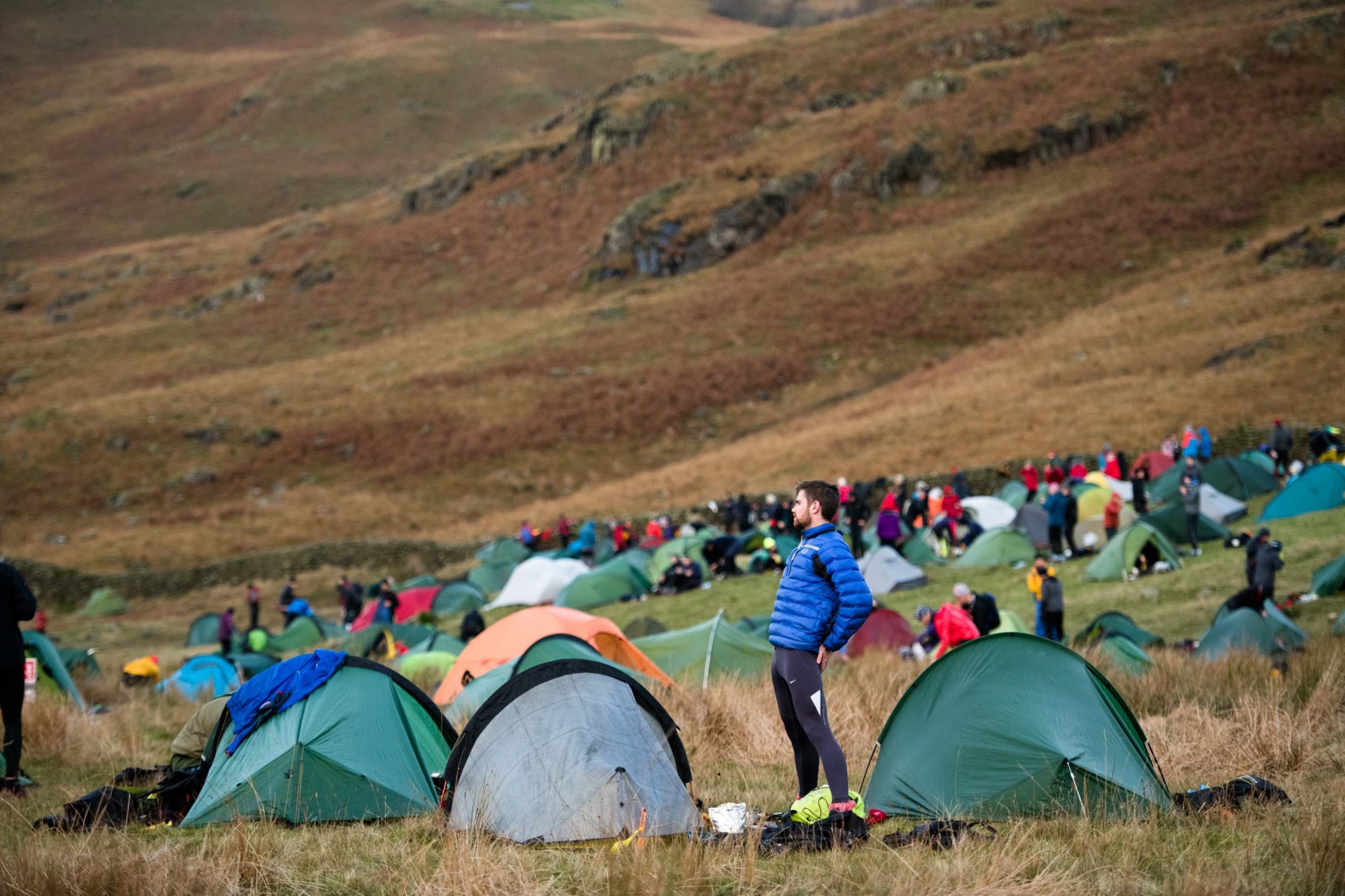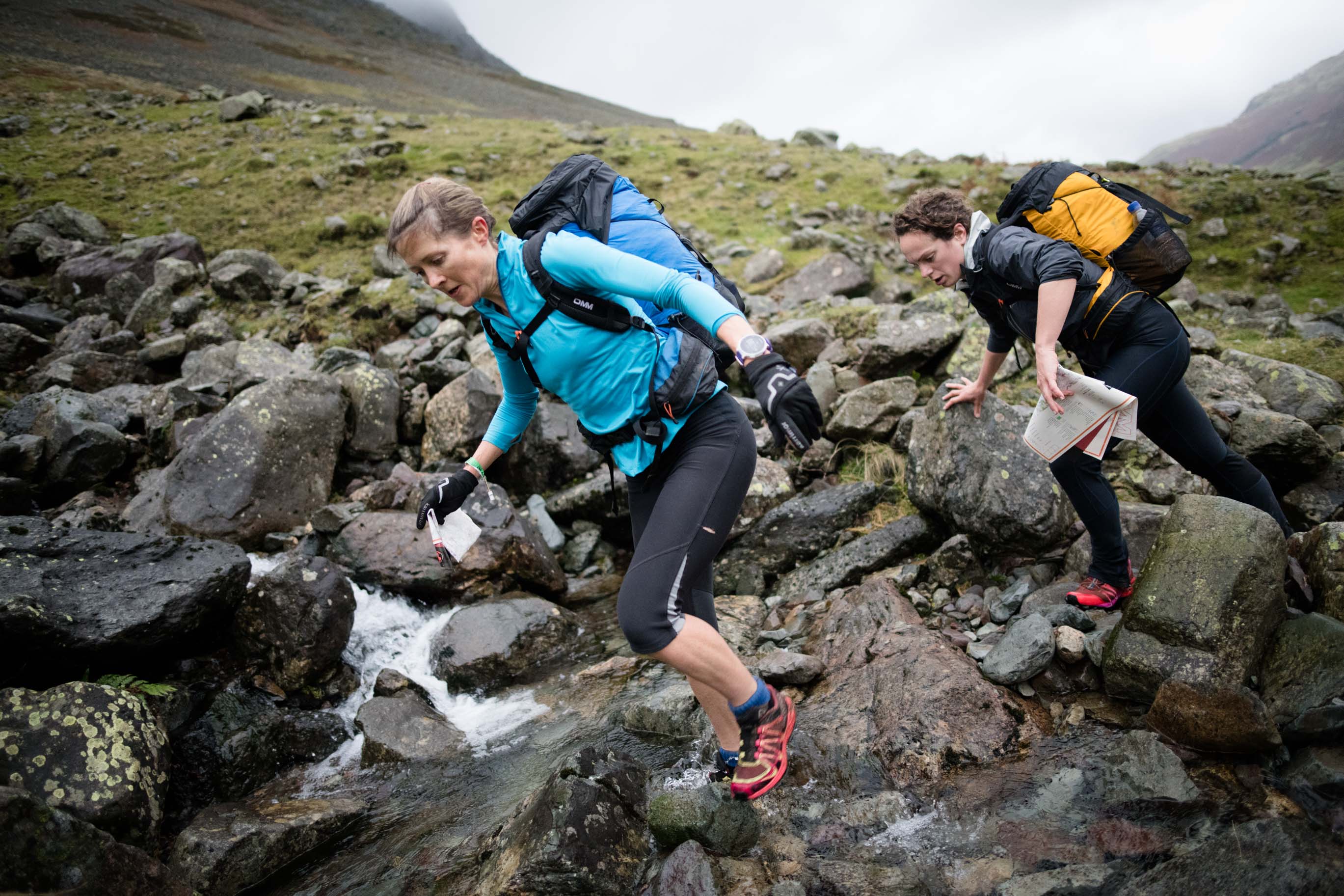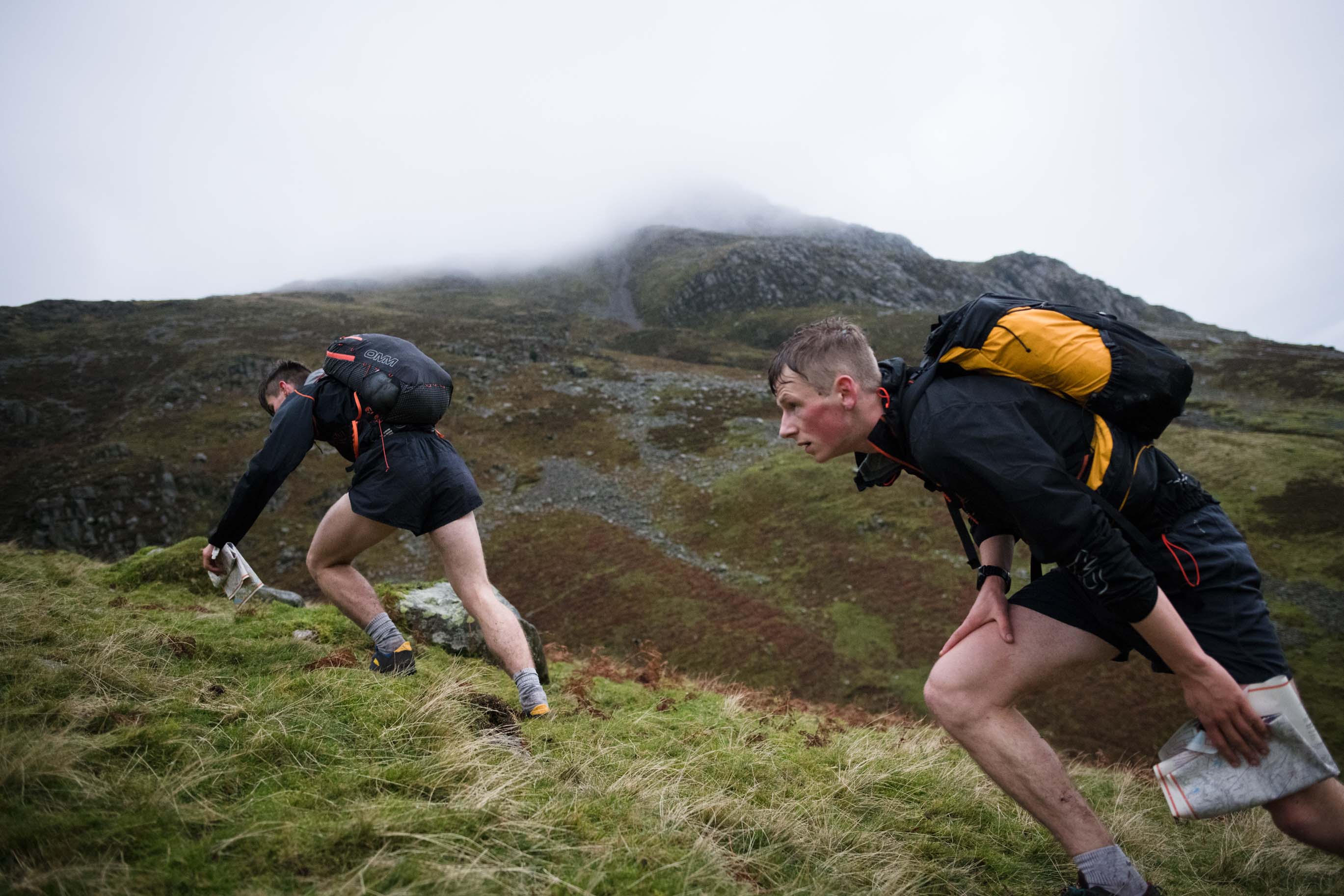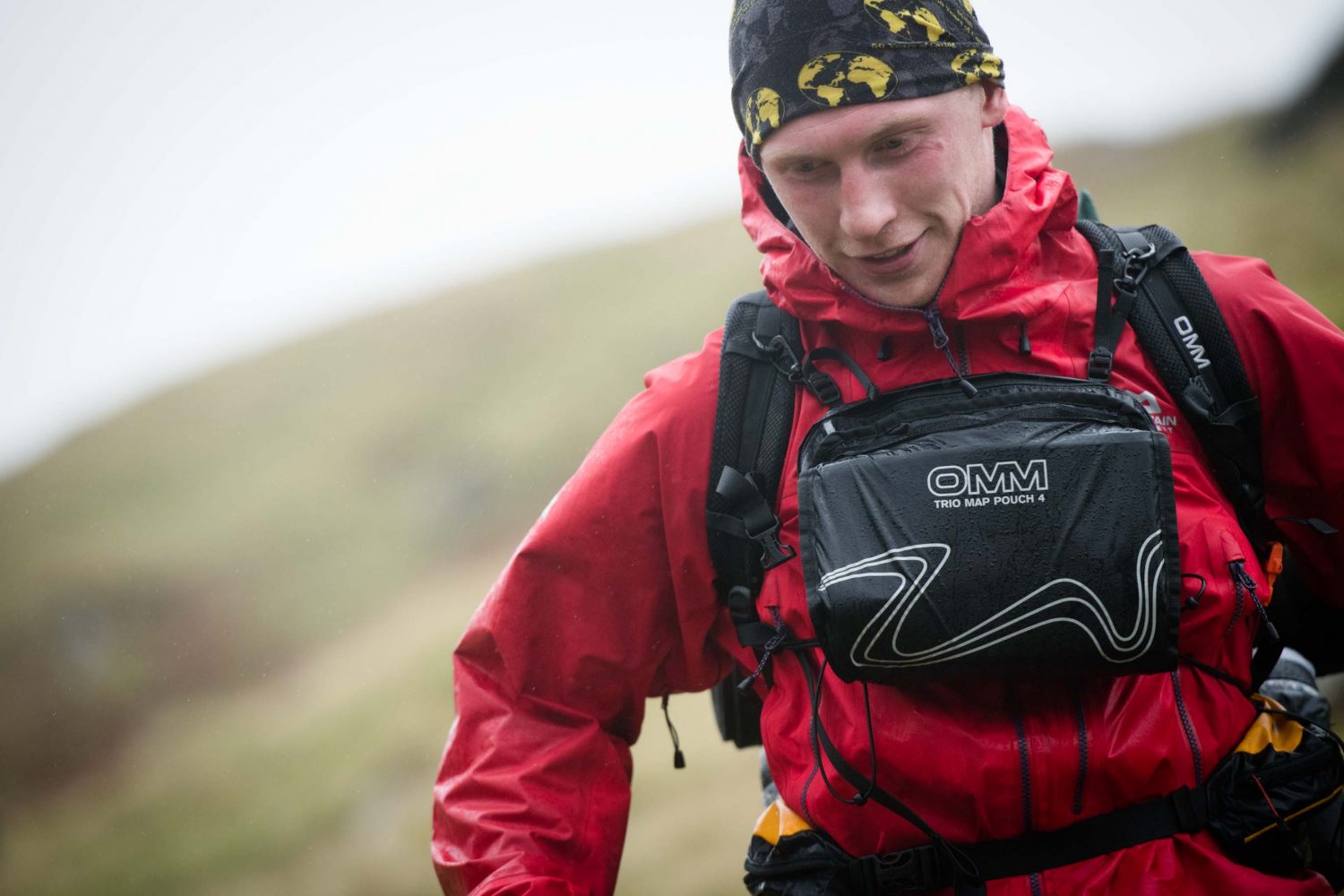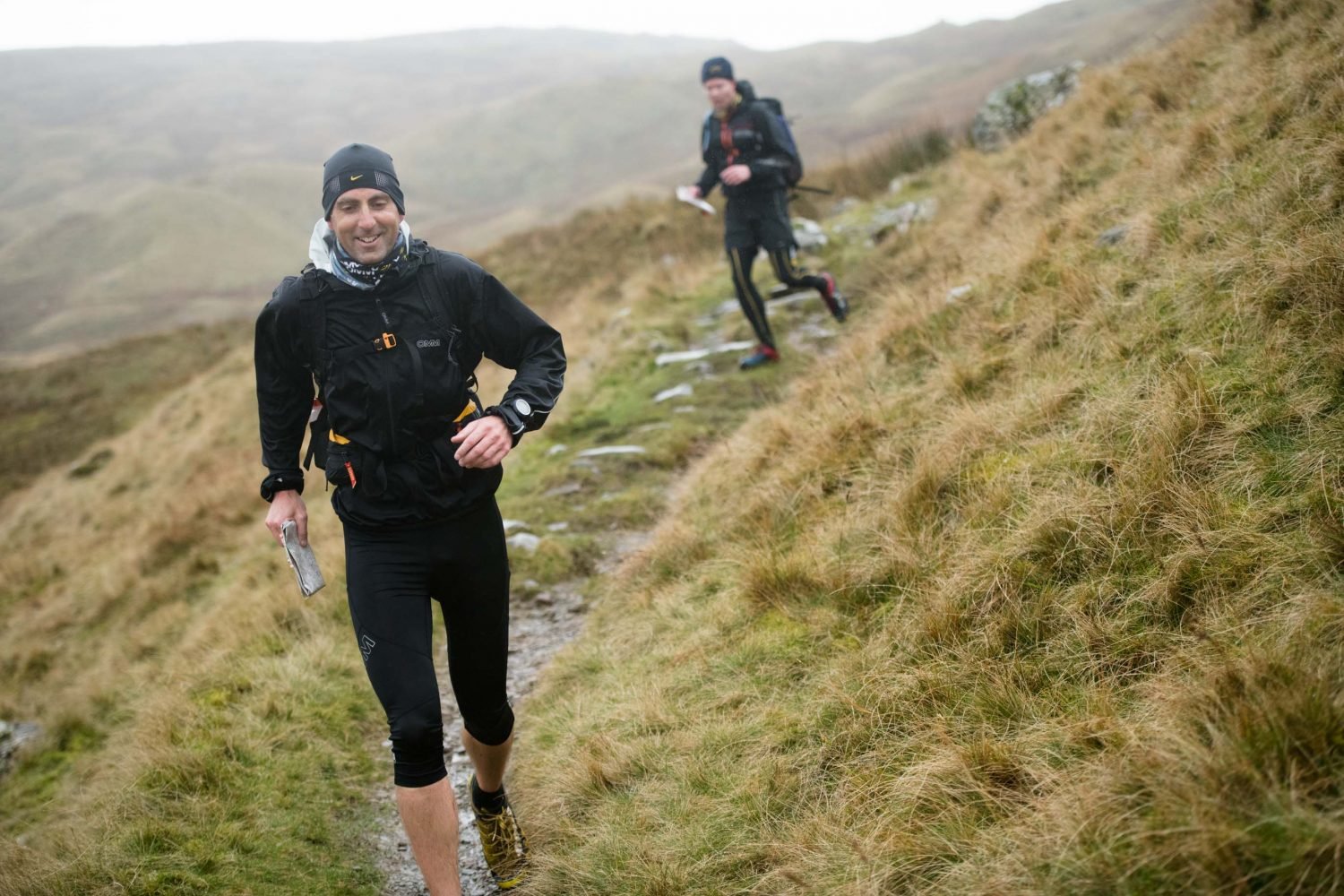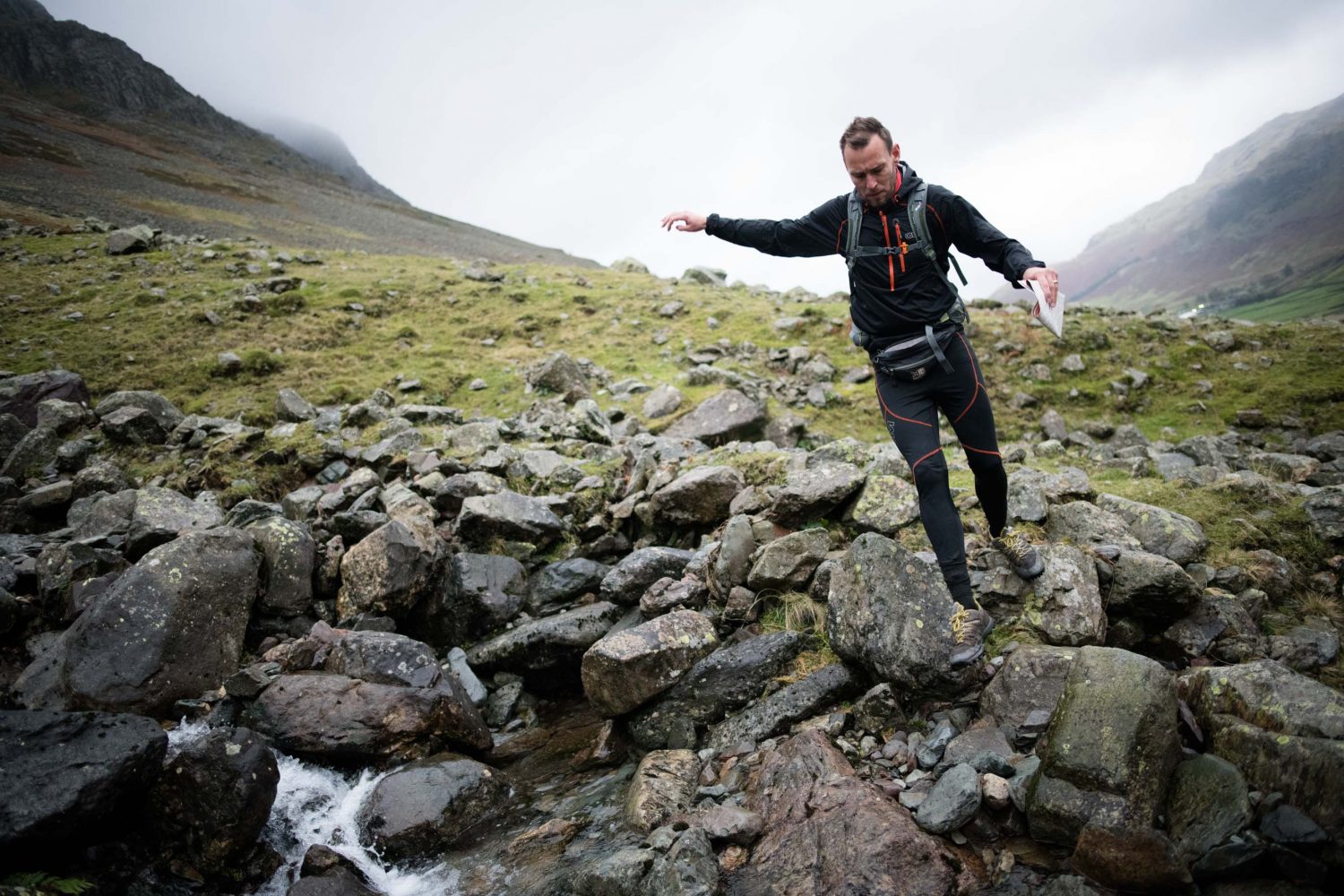 uk2017_1288-e1535368485897
uk2017_1315-e1535368214826
uk2017_0782-e1535368246939
On the startline you'll be given a map of your course. You need to plan a route to find your checkpoints finishing at the halfway overnight campsite. To complete the race you need to be self reliant & carry everything you need for the 2 days including the halfway camp. Day 2 you get new checkpoints to find finishing back at the event centre.
Next choose what type of course you want to do..
The fastest team to visit all the checkpoints in a specific order wins.
Any route allowed. Choose between 3 distance options. More details below…
You've got 7 hours to find as many checkpoints as you can, GO!!!
Highest score wins. Choose between 3 distance options. More details below…
RULES AND CONDUCT
COMPETITION RULES AND CONDUCT
In order to conduct the competition on a fair and equal basis for all participants, and ensure safety, it is necessary to apply rules governing a competitor's conduct, clothing and equipment. These rules, which are set out below will be STRINGENTLY enforced.  Anyone found to be in breach of these rules will be automatically disqualified from the current event and may be banned from future events.
THE GOLDEN RULE

 

 

–  once registered, competitors must report to the Event Centre to return their timing tag by 16:30 hours on the Sunday whether they have completed the course or not.  Without it the team is deemed missing and will be searched for!  Please note that if you fail to return the tag before leaving the event area you may be liable for any rescue costs incurred.
Age Limits

 

– Elite Class

, all competitors must be 18 years old on the date of the competition and at least one of each team must be a minimum of 20 years of age. In other classes A,B and Score courses, all competitors must be a minimum of 16 years on the day of the competition and at least one of each team must be aged 18 years or older.

Previous Winners

 

– Winning teams in each class are not eligible to compete competitively in the same class in future years (this excludes Long Score and Elite).
Previous Experience – A minimum amount of Mountain Experience, navigation and outdoor skills are essential and details of previous experience must be provided on the entry form.  
Staying Together – The event is for teams of two or three (see rule 6) and teams must

 maintain contact (close enough to communicate by voice) throughout the competition. Both team members must visit the control sites together carrying all their equipment. i.e. the team must be in possession of both rucksacks at all times. If one member of the team cannot continue the whole team is retired – The only exception is in the case of an emergency, when competitors must exercise their own mountain judgement as to the appropriate action to take, including but not limited to leaving a partner in a warm safe environment to seek help from others.  The map provides an emergency telephone number and mobile coverage is available in most of the higher areas.

Teams of Three.

 

Teams of three can also compete in the OMM, this allows those that are keen to compete but do not have a team mate to enter in line with our ethos of encouraging as many people as possible to get out and responsibly use our wild spaces. For safety reasons all team members must use one tent on Saturday night ensuring no one is left alone.  Contact emma@theomm.com to add a third team member.
Out of Bounds (OOB) – OOB areas and compulsory crossing points are marked on the competition map and must

 be respected.

Equipment – Teams must carry or wear all the equipment and clothing on the official kit list. This is the absolute minimum

 for safety and survival. You will be asked to complete an online kit check and safety declaration before arriving at the Event. 

Kit Inspection – Competitors must permit the examination of their equipment by race officials at all times.
Emergency Rations – On completion of the course all competitors must still be in possession of sufficient rations for an emergency.
Start Times/Course Closure Time – Start times for both days will be shown on the event details and Saturday and Sunday course will be shown on the map and must be clearly adhered to. Teams failing to finish within the course times may be disqualified or (if on Saturday) may be allowed to continue but marked as 'Timed Out' at the Organiser's discretion.
Timing Tag

 

– Sport Ident timing cards are issued to each team at registration (attached to the wrist).  Competitors will be charged the cost of replacement (currently £30.00) for any loss or damage to these.
Courses – Competitors must not seek to obtain unfair advantage by searching for courses or inspecting the competition area before the event.

GPS/Mobile phones

 – You are to to carry a fully charged mobile phone for use in an emergency.   These or any GPS device (including watches) may be carried BUT must not

 be used for navigation.  An altimeter can be used but please note: we may remove the height data from the maps.   Any team found using their mobile phone or other electronic device for communication or navigation purposes, 

except in the case of emergency, will be disqualified from the event.  This includes at the overnight campsite.  We rely on the integrity of our competitors to follow this rule. (unless we remove all electronic devices from every competitor there is no other way for us to enforce this).
Conduct – Competitors who, in the opinion of the organisers, act in such a way to bring the event into disrepute or unnecessarily endanger other competitors or race officials will be disqualified and may be banned from future events.
Dogs – No dogs are permitted in the competition area.
Fires – No open fires permitted anywhere on the course or at the Overnight campsite.

Noise

– At the mid-way campsite, no unnecessary noise after 22:00hrs.

Illegal drugs

–

 

Illegal drug use will not be tolerated at the OMM.  Do not bring and/or take drugs.  Any drug use will be reported to the police.

U18s

–Must be accompanied by a suitable and responsible adult guardian.  The guardian is responsible for the welfare of the child.
ENTRY DEADLINES, AMENDMENTS & CANCELLATIONS
AMENDMENTS TO YOUR ENTRY
Please complete this AMENDMENT FORM to make any changes to your entry.
CANCELLATION OR DEFERMENT OF ENTRIES
For any cancellations received up to  3 months before the event (31 Jul 23), a refund (-10% admin fee) can be made by emailing emma@theomm.com.  After this date we cannot offer a refund as we have already paid for your attendance.  The event is run on a not for profit basis and one of the ways of keeping the costs as low as possible is to agree numbers as far in advance of the event as possible, hence why it becomes more expensive to enter as we get closer to the event.  For these reasons we are also unable to defer entries to future events.
WHAT HAPPENS DURING THE RACE
START TIMES
You will be notified of your start time window by email approx. 2 weeks prior to the event.
We now prioritise early start times to category teams (female, vets, mixed and family teams). Then by date of entry.
DAY 1 – START
Location.
The route will be signposted from the camping field – just over 2km walk on flat paths/tracks.  Please ensure that you leave enough time to get to the start.    There will be very limited toilets available Approx 500m from the start so go before you set off!
Start Times Day 1
From 08:00 hours for all classes except Short Score (09:00 hours).
The start line
Wait close to the start line until your allocated start time window.  Your race time will start from when you punch your timing tag in the start box.  If you are late you will have to be fitted in at the next available slot, which may be some time.
Maps.
We use 1:40000 Harvey Maps.  The map is printed on polypropylene synthetic paper that is waterproof, tear resistant, easily folded and 100% recyclable.
At the start line you will collect the map for your course (a new one each day) which will show all checkpoint locations.  The legend lists the checkpoint codes, grid ref, description, score course points and control closing times.   It is very important that you read all this information.
To ensure the start area does not get congested you must move away from the start before beginning your route planning.
DAY 1 FINISH.  
Both members of a team must finish together – failure to finish as a team will lead to disqualification.  Take care to visit the last controls on both days. This is a common mistake leading to disqualification.
Immediately after finishing on Day 1, follow the taped route to the download stations where you will dip your timing tag and be given a printout showing the controls visited, with points and split times. Please move away from the area THEN check your printout. If anything is wrong or you need to report having to punch manually, proceed to the enquiry point further down the line. Make sure you keep your timing tag on for use the next day.
All competitors wishing to start on Day 2 must:
Finish Day 1 together, having correctly completed the Day 1 course by 20:00 hours.
Have camped in the official campsite overnight.
Not broken any of the competition rules.
Ad hoc teams of Day 1 finishers may be allowed to start on Day 2 as Non Competitive at the discretion of the organisers.
Retirees
Anyone retiring at the overnight campsite must make their own way back to the Event Centre. Transport is not provided except in the case of serious injury. Teams who retire on the first day without reaching the overnight camp will be presumed to have independently camped for the night, these teams should wherever possible inform the Event HQ of this fact by mobile phone or via another team or marshal.
Kit Checks
Spot checks on equipment may be carried out at the overnight camps.
SATURDAY EVENING CAMPSITE
Only the official campsite toilets should be used and you must take all rubbish with you –  there will not be a skip.   If you have no rubbish and are kit checked at the finish we will want to know why!
As a precaution we advise you to boil all water.
The overnight camp/s are out of bounds to everyone other than competitors and race officials.
DAY 2 START (SUNDAY)
Your Day 2 start time window will have been emailed to you 2 weeks prior to the event BUT please read on as this may change if you finish late on Day 1 or are included in the seeded starts.
Day 1 Late Finishers
Teams finishing after 18:00 on day 1 will be re-allocated to a start window of 07:00 – 07:15
Seeded Start Times
There will be a seeded start between 07:00 – 07:30 for the leading finishers in each category on day 1 for all courses other than the Short Score which will have a seeded start from 08:00 – 08:30.  
The start times of the teams in the seeded start and will be displayed at the campsite on Saturday evening as soon as possible after 18:30.  
REMEMBER to check the board on Saturday evening to see if you are in the seeded start or have been reallocated an earlier start time. You might have done better than you think!
DAY 2 – THE FINISH
The finish point will be shown on competitor's maps.  Pairs must finish together. Failure to finish as a team will lead to disqualification.
After you have finished, please grab yourselves a cup of water and/or hot squash, and go straight to download your tag. You will be given a printout showing the controls visited, with points and split times. Please move away from the area THEN check your printout. If anything is wrong or you need to report having to punch manually, proceed to the enquiry point further down the line.
Your tag and team tracker will be removed and then head to the catering area.   Please keep a hold of your results slip and show this to the guys serving the food as these will entitle you to a hot meal freshly prepared by our chefs!
Kit Checks: Spot checks on equipment may be carried out at the finish.
CONTROL AND COURSE CLOSING
All courses will close at 16:00 on Day 2; if you arrive back after this time you will be timed out.
Controls will be closed and may be removed before 16:00 at a time dependent upon their distance from the finish. Control closing time will be displayed on the control description sheet. The intention is to bring in distant controls as soon as possible to inform a search for missing teams if this becomes necessary.
PUNCHING AT A CONTROL POINT
Each control site will have the standard orienteering kite with a two letter code, a SportIdent control station and a standby pin punch.  Each team will be issued with an Sport Ident timing tag.  Timing tags are small plastic pegs that have an electronic chip in one end.  It is dibbed into the hole in a control station in order for competitors to register that they have visited the control. The control station gives an audible bleep and a visual flash to confirm that the dibbing has been successful.
Some controls will have 2 or 3 stations available to avoid queues – you can punch at any station at a given control point. In the unlikely event that the control station doesn't register, please record your visit on your map using the manual pin punch in the space provided and report the fact to the marshals and after you pass through the finish.
Many controls will be manned by race officials who will  endeavour to record the time of each team passing through the control. Please assist the control officials by clearly announcing your team number and class prefix i.e.: E,A,B etc. Teams are requested not to use the control points as resting places or for the consuming of refreshments since this distracts control officials and shows approaching teams where the control sites are.
SI-TAGS
The SI tag will be attached loosely to your wrist at registration using a tamper proof wrist strap. This must remain attached all weekend and be cut off you either when you finish or if you retire but only at the Event Centre. You will be at risk of disqualification if you remove the tag from your wrist. You will quickly get used to carrying the tag on your wrist. Wrists do swell during exercise and providing it has been attached loosely; you will hardly notice that you are wearing it overnight. If you lose, break or take a tag home with you the charge for it's replacement is currently £30.00  The use of your own timing tag is not allowed for safety reasons.
SAFETY
The tag has your team number printed on it and is an important safety check to tell who is still out on the course.
Tags MUST be returned to the event centre by 16:30 hours on the Sunday before you leave the competition area: Missing tag = Missing team = Search party.
KIT LIST & EQUIPMENT
CLOTHING AND EQUIPMENT CHECKS
Random kit checks may take place at any time during the weekend.   You do not need to bring your kit to the registration area.
OMM MANDATORY EQUIPMENT LIST
Each individual and team is responsible for being properly equipped for two days unsupported racing in exposed terrain at the end of October.
This list should be seen as a minimum requirement only. Check the weather forecast and use your previous experience and sound judgement to decide the kit you should be wearing and carrying. The organisers reserve the right to disqualify any competitors who, in their opinion, do not have the necessary kit to survive in an emergency situation. Cotton clothing is not suitable.  
EACH COMPETITOR MUST WEAR OR CARRY THE FOLLOWING:
Taped seams waterproof jacket with hood
Taped seams waterproof trousers
Clothing suitable for mountain running and walking
Warm layer top.
Hat (not a buff), Gloves & socks
Footwear suitable for fell and trail use
Head torch capable of giving useable light for a
minimum of 12 hours
Whistle & compass
Map (as supplied)
Insulated sleeping system
First aid equipment
Survival bag (not a sheet)
Rucksack
Emergency rations (should still have at the finish line)
Water carrying capability
Pen/pencil for map marking (waterproof paper) in wet conditions
Fully charged mobile phone
Spare warm kit and insulated sleeping system must be waterproofed (i.e. in a drybag)
EACH TEAM MUST CARRY THE FOLLOWING AT ALL TIMES:
Cooking equipment including stove with sufficient fuel for duration of the race, plus some spare for emergency use, left at the end of the event

Tent with sewn in groundsheet

Food for 36 hours for two (or three) people
Be aware that there will be no skip at the overnight campsite! The race is self-sufficient so you need to carry any rubbish with you back to the finish on Sunday.   No rubbish at kit check? We will be asking why!
HOW TO GET TO EVENT AND VEHICLE PARKING
Event HQ location:
TBC
HOW TO GET THERE?
Air – TBC 
Train – TBC
Bus – TBC
Car Share – It may be possible to arrange a car share via the OMM Competitors Facebook page.
Private Vehicle:  Free parking. Minimum 2 people per vehicle wherever possible.
CAMPING, CAMPERVANS AND ACCOMMODATION
FRIDAY CAMPING.   This is free, no need to book.   Camping will be close to the event HQ water and toilets are provided.   Want to camp Sunday night? contact emma@theomm.com.
CAMPERVANS/MOTORHOMES.  More information to follow regarding campervans/motorhomes at OMM 2023.  
ACCOMMODATION.  If you'd like a luxury nights sleep before and after the OMM there are local accommodation options for Friday and/or Sunday night.
REGISTRATION AREA
Desks open from 15:00 to 22:30 on Friday and from 06:00 to approx 09:30 on Saturday.
Queries Desk.   For any last minute changes to your team.
*Timing Tag Collection Desks.  You

 

must

 

have completed online registration BEFORE arriving at the event.   Either team member can collect.

 

Collecting Sat am? Leave time to get to the start (start times published and link to online registration goes live 2 weeks before the event).  
*Safety Tracker Collection desk.   1 team member must bring their backpack so that the tracker can be attached.  Here's the link to tracking to pass to your family/friends if you wish.   
Car Key Drop-off.  Keys can be dropped off at the registration area or at the start line on Day 1.
Baggage Drop.   Travelled by public transport?  We can store your baggage.
Kit Check.  These are not carried out at registration but can take place at any point during the event.
*1 team member wears the timing tag, the other carries the tracker.
[We will do our utmost to look after your keys and baggage but cannot not be held responsible for any loss or damage]
FOOD AND DRINK
[Remember you are completely self sufficient for food/drink from your start on Saturday to the finish on Sunday other than water at the overnight campsite which should be boiled as a precaution.] 
Take a look at the 2023 MENU and opening times HERE to give you an idea of what will be available in 2023.
No need to pre-book for food.
If you have a serious allergy or concern please email hello@fellbeck.co.uk prior to the event.
DOING OUR PART FOR THE ENVIRONMENT
Events can be heavy on single use items like plates & cups. Our goal is to reduce the environmental impact of the OMM event as much as possible. We need your help to do this….
RECYCLING
As with all our events, we will be using a specialist waste management firm to collect, sort and recycle all the waste from the event. They work to keep as much, if not all, of the waste collected, out of landfill plus do all the sorting off site, meaning we don't have to worry about sorting it at the event!
DEPOSIT SCHEME
We will once again be using a deposit scheme for pint pots at the bar. A £1.50 deposit gets you a reusable OMM pint pot that you can then either return when you're finished or else keep as a memento! This will drastically reduce our plastic use and hopefully set the standard for future events.
USE YOUR OWN MUG
You are free to use your own mug for hot drinks at the Event HQ, we will have cups available but we hope by using your own mugs, we can reduce waste further. Keep your mug handy at the finish on Sunday for squash and water!
Note: You are unable to use your own mugs for beer.
ACTION IN AN EMERGENCY AND PERSONAL SAFETY
ACTION IN AN EMERGENCY SITUATION
ONLY when you require URGENT OUTSIDE ASSISTANCE:
IF YOU HAVE A MOBILE PHONE SIGNAL:

Call 999 (ask for Police and then Mountain Rescue).   Then call Event HQ emergency number (on map)
Press emergency SOS button on tracker (large square button on front – hold for 3 secs – will vibrate).  Do this whether or not you have a mobile signal.   Ensure all team mobile phones are turned on.
Stabilise casualty and ensure they warm/under cover and press tracker SOS button.

NO MOBILE PHONE SIGNAL:

If no other option uninjured team member should leave to get help TAKING TRACKER WITH THEM (as soon as there is a mobile signal the tracker will send the casualty location and continue to send the location of the tracker itself).
MINOR ACCIDENT/INJURY/SITUATION
Call Event HQ emergency number on map for assistance.
PERSONAL SAFETY
Retiring – you must inform Event HQ in person (wherever possible) or by phone.  Do not contact the emergency services unless in a genuine 999 situation.
You should give assistance to other injured competitors – inform event HQ on your return and we will adjust your finish time if necessary.
Never allow the pressure of competition to override your judgement.  The decision to start the event is yours and the decision to pull out must be yours.

 

Do not press on beyond the point where one team member is beginning to suffer from exhaustion or the first signs of exposure.  Do not go for too long without eating, particularly later in the day as you begin to tire. Always wear sufficient clothing and waterproofs to keep warm and dry.  

If unable to reach the overnight campsite, find a suitable site and camp independently for the night. IN THIS SITUATION WHEREVER POSSIBLE YOU SHOULD call the Event HQ Emergency number, the nearest marshal or let another team know you will be staying on the hill.
Be sure to use the Buddy system to check each other for temperature related medical conditions.
Finish and download of timing card/tag – It is your responsibility to get back to the finish line on each day and download your timing card to let the event organisers know you are safe.   If you have not checked in by 16:30hrs on Sunday, a search by the relevant emergency services will be instigated.
Please read on for some useful articles on safety in the mountains:
999 by Text – Register for this important service before the OMM.  It allows you to contact 999 by text – very important when you may only have a week phone signal that does not allow for clear speech.  You must register BEFORE you need to use the service – it's quick and easy.  Click here
Guide to calling in the Mountain Rescue
First on the Scene of an Accident? – a useful guide from the FRA
Hypothermia – How to avoid it and what to do if you get it
River Crossings – Top tips from the BMC if a river crossing is unavoidable
Ticks and Lymes Disease – All you need to know about Ticks the little blighters!
Taking Care Around Cows – Just in case you encounter cattle or other livestock
TIMELINE FOR THE WEEKEND
Key dates and times for the OMM
On the Friday
15:00 Registration and parking opens
17:00 Hot Food available 
21:00 Catering closes
21:00  Q&A in the marquee
22:00 Bar closes
22:30 Registration closes
On Saturday, Race Day 1
06:00 Registration opens
06:00 Catering opens
08:00 All starts open (except short score)*
09:00 Short score start opens*
On Sunday, Race Day 2
Start times from 0700*
11:00 Competitor meal available
12:00 Bar open
14:00 B + Short Score prize giving**
15:30 Elite, A, Long + Medium score prize giving**
*Start times allocated prior to event
** Approximate timings for prize giving
COURSE OPTIONS
6 courses in total – 3 Score (points based competition – more info below) and 3 linear (time based competition- more info below).
Previous Experience.  We do not set specific previous experience for each course, please read the advice below and ensure you fully  complete the 'previous experience' section on your entry form.  We may contact you to discuss your choice of course if we have safety concerns.
Maps.  A separate waterproof 1:40,000 map is issued for each day.  Control locations for your course are marked with a circle.  The legend shows control descriptions, compulsory controls and control closing times – it is very important that you read all this information.  We work very closely with HARVEY maps to produce the best possible mapping for the event.
Age Limits.  For the Elite course, all competitors must be 18 years old on the date of the competition and at least one of each team must be a minimum of 20 years of age. In other classes (A,B and Score courses), all competitors must be 16 years on the day of the competition and at least one of each team must be aged 18 years or older.
READ THIS BEFORE DECIDING ON YOUR COURSE.
Distance/ascent quoted below are based on example routes and are a guide only.   It is impossible to give an exact distance/ascent for courses as each team chooses the route they take between checkpoints – the details shown are based on example routes and are a guide only.  Terrain, weather, vegetation (and numerous other factors) change every year, accordingly so does the courses.
Take the terrain into consideration when choosing your course (rarely a path in sight, tussocks, bogs and anything else that will slow down your progress from your normal speed).
We plan each course based on the expected average finishing time of the top 5 teams and using the ratio of 100m vertical gain is equivalent to 1km flat distance e.g. 85km distance/4000m of ascent is the same as 95km/3000m of ascent.  Courses are split 55% of the distance on Day 1 and 45 % on Day 2.
---
SCORE COURSES
Time based competition.  Competitors choose which checkpoints to visit and the route between them within the time allowed, each checkpoint is worth different points dependent on its location/difficulty.  The score courses are the best option for those who want the flexibility of being able to choose the distances that they cover and a wider range of navigational choices.  We recommend a score course if this is your first OMM.  These courses are as physically challenging as you choose to make it as you do not have to stay out on the hill for the whole time allowance.  Points are deducted for finishing outside your allocated time limit at a rate of 2 points per minute (or part of minute). These courses can be easier to complete than a line course but very difficult to do well competitively due to the increased amount of planning required.
LONG SCORE
Day 1: 7 hours. Example map
Day 2: 6 hours. Example map
Time limit of 7 hours on day 1 and 6 hours on day 2, significant hill experience and fitness is required.
MEDIUM SCORE
Day 1: 6 hours. Example map
Day 2: 5 hours. Example map
Time limit of 6 hours on day 1 and 5 hours on day 2, to be competitive significant hill experience and fitness is required.
SHORT SCORE
Day 1: 5 hours. Example map
Day 2: 4 hours. Example map
Time limit of 5 hours on day 1 and 4 hours on day 2.  This is the course we'd recommend for 1st time competitors or those wishing to take a more relaxed approach to the competition.  You will still need to be able to read a map and use a compass.
---
LINEAR (LINE) COURSES
Linear are timed navigation courses where specified checkpoints must be visited in order. Teams are free to choose their routes between checkpoints.  Fastest time wins.
ELITE COURSE 
Day 1: 47km (straight line distance) / 2200m. Example map
Day 2: 38km (straight line distance) / 1800m. Example map
Example route data as a guide only.   Winning times (Sat/Sun combined) usually around 12hrs. It is advisable to have significant previous race experience at a suitable level, e.g. the A Course or Long Score before entering this class.
Day 1: 36km (straight line distance) / 1650m. Example map
Day 2: 29km (straight line distance) / 1350m. Example map
Example route data as a guide only.  The winning time (Sat/Sun combined) is usually in the region of 11 hours. In order to compete on this course we strongly recommend previous race experience on the B Course or a similar event.
B COURSE

Day 1: 25km (straight line distance)/ 1100m. Example map
Day 2: 20km (straight line distance) / 900m. Example map
Example route data as a guide only.  The winning time is usually around 8 hours. Some previous experience required in navigation and mountain terrain with a good level of fitness.  We recommend the Short Score rather than this course for those that are new to the OMM as it gives you more flexibility with the distance and time you spend on the hill each day.
Still unsure which course to enter? Contact emma@theomm.com and ask for advice.
PREPARATION
Not sure if you're ready to take on the OMM or would like to brush up on your skills?
Look no further:
OMM Academy – navigation techniques, packing your bag, winter running and much more. Articles & Videos
Learn some new skills on a course from one of our OMM Approved Training Providers
Brush up on your mountain safety here – river crossings, hyperthermia, calling in a Mountain Rescue Team and more.
Still not sure you're ready for the October OMM?
Take a look at some of the summer events in the British Mountain Marathon Calendar or join us next May for the OMM Lite, the perfect introduction to the Mountain Marathon format and another great weekend in the hills!
OMM EQUIPMENT SHOP
As ever there will be an opportunity to stock up on new kit and race goodies.  Alongside the OMM range, we will have a selection kit list items.  And of course we'll have a few special offers, perfect for rewarding yourself after a hard weekend!   We do not stock trainers!
More information and offers closer to the Event.
PRIZES AND CLASS CRITERIA INCLUDING HUTTON (MILITARY) TROPHY
PRIZES
The OMM is a not for profit adventure race and the purpose of the prizes is to recognise outstanding achievement.  As a result we award prizes in accordance with the following guidance although reserve the right to add where we see fit. 
We will always award prizes for 1st Overall team, 1st Female team, 1st Family Generation Team, 1st Mixed team and 1st Veteran team. 
Where there are 5 or more teams in a category we will award a prize for 2nd place. 
Where there are 10 or more teams in a category we will award a prize for 3rd place.
The Hutton (Military) Trophy will only be awarded to the highest placed military team on the Long Score, both team members must be currently serving or, have served in a military for at least 3 years. 
Please note due to the way the Veterans handicap is now calculated we will only be awarding an overall veteran prizes.
All prize wining teams will be presented with an OMM voucher in recognition of their achievement.
Previous Winners – Winning teams in each class are not eligible to compete competitively in the same class in future years (this excludes Long Score and Elite).
OMM Special Recognition Award.  If you know of someone taking part in the OMM that deserves special recognition please get in touch with Stuart the Event Director (stuart@theomm.com).
Family Generation Team.  Consists of 2 members of the same family from different generations (e.g. grandfather/granddaughter, mother/son).
Please note that from 2023 the Family Generation Team criteria will change to the following to encourage younger competitors to take part, vital to ensure the continuation of Mountain Marathons for many years to come:   "2 members of the same family from different generations (e.g. grandfather/granddaughter, mother/son), one member of the team must be U21."
The presentation of prizes will take place in or close to the main marquee dependent on weather. There will be 2 prize presentations: B & Short Score at 1400 hours, Elite, A, Long & Medium Score at 1530 hours.  The the Hutton Trophy (military prize) will be presented at the same time as the Long Score.  Prizes will consist of vouchers to spend on OMM products.
VETERANS HANDICAP
The calculation of the handicap was changed for 2018 following competitor feedback; now only the age of the older team member is considered, and woman are given an additional handicap equivalent to 10 years.
This is how the percentage handicap will be calculated:
A team is eligible for a handicap if both members are 45 or older on the Saturday of the event. This applies to both men and women.
To calculate the handicap, ten years is added to the age of women and then the greater of the team's two ages is used as the handicap age.
The handicap percentage is then calculated as 1% for every year over 45.
Here are some examples:
A team of two men aged 50 and 55 has a 10% handicap.
A team of a man aged 55 and a woman aged 50 has a 15% handicap.
A team of a man aged 55 and a woman aged 44 is NOT eligible.
A team of two men aged 40 and 70 is NOT eligible.
This is how the percentage handicap is used:
For a linear course the total time over the two days is reduced by the handicap percentage.
For score courses the total points score over the two days is increased by the handicap percentage. If the total points score over the two days is negative, no adjustment is made.
Here are some examples:
If the total time over two days on a linear class is 8 hours 30 minutes and the handicap is 10%, the time used for veteran results is 7 hours 39 minutes.
If the total score over two days on a score course is 800 points and the handicap is 20%, the score used for veteran results is 960 points.
MILITARY CLASS – Hutton Trophy
THE OMM has a well established Military Class competing for the Hutton Trophy. Donated by Col Jim Hutton OBE for the highest placed team on the Long Score event.  Both team members must be currently serving or, have served previously in the military for at least 3 years.
Army Comman
din
g Officers may deem that the OMM contributes to the unit's individual or collective military training outputs (particularly navigation skills), when those planning to participate have suitable experience to take part safely.  Army 'Authorisation for Comparable Activities'  (ACSO 3235) policy must be followed. 
About the Hutton Trophy
Presented for the first time in 2010 at the OMM Dartmoor, the Hutton Trophy was presented to OMM by the family of Marine Jamie Hutton who was tragically killed in a training accident in 2008. Jamie and his father, Jim, also known as Col Jim Hutton OBE, Royal Marines, were the highest placed family team in their category in the Brecon Beacons OMM in 2004.  The Trophy is a Commando Dagger in a chunk of Dartmoor granite, which represents everything that the event stands for.  Designed to test teamwork, intelligence, determination and a robust sense of humour the OMM offers a different challenge every year.  
The Hutton (Military) Trophy will be awarded to the highest placed military team on the Long Score, both team members must be currently serving or, have served in a military for at least 3 years.
Concessionary Athlete Fund
We believe economic background and lack of resources are some of the biggest barriers to entry to our events and action needs to be taken to create champions from these backgrounds who can best represent the positive stories of Mountain Marathons. As such, we are pleased to announce that we will provide 20 scholarship entries to the OMM for those who would normally find entry to the event challenging.
The 20 entries will also have assistance in meeting the kit list requirements and have access to the OMM team for support in training and skills. Application to the scholarship will be by personal statement (written or by video) to james.gray@theomm.com, stating why they would like the support. Support from OMM will be provided confidentially.
YEAR CLUBS
We award 20/30/40 year club badges to the elite group of competitors and volunteers who have completed 20/30/40 or more events.  Lots more info here.  Please contact emma@theomm.com if you think you are eligible.  There are many who are no longer 'race active' and not on our mailing list who may be eligible, please alert anyone you know who is.  Presentations will be made at the event where possible.
Commitment to Review
Finally, we recognise that people are passionate about the sport of Mountain Marathon running and just want a fair opportunity to achieve in it. We believe we are outlining a fair system for all but undoubtedly, we will make errors and recognise that the landscape and expectations of society is changing all the time. We do not want to see the sport of Mountain Marathon left behind for the sake of tradition but instead, grow and nurture this unique challenge for future competitors.
We therefore commit that we will review our prizes and equal opportunity structure every two years (next in 2023) but within that time, we welcome your thoughts on what we can do better and will improve wherever we can.
RESULTS AND PHOTOGRAPHS
Results – The results will be updated online every 15 minutes through the weekend.
Photography – Photographs will be available online free of charge after the event.
ORGANISERS & CONTACT
ORGANISATION AND CONTACTS
The organisation of the competition is conducted by a small army of unpaid volunteer helpers drawn from a wide variety of clubs and organisations, including the many faithful stalwarts who help out every year and without whose experience it would not be possible to conduct such an event.  These teams of volunteers allow us to keep the entry fees as low as possible to benefit you.
The officials listed are the principal organisers and team leaders:
Event Director: Stuart Hamilton stuart@theomm.com
Event Coordinator/Competitor queries: Emma Gill emma@theomm.com
Event Communications/Press Officer:  Alistaire McGregor al@theomm.com
Race Coordinator and Controller: Dave Chapman dave@theomm.com
Registration: Sharon Fishwick and team
Communication: Andy Neville, Eddy Wane, Andrew Fishwick and team
Car Parking and Coaches: Ryan Greenwood and team
Start Day 1 and Finish Day 2: Andy Ellis and team
Midway Camps, First Aid and Day 2 starts: Darren, Laura, Stephen, Andrew and the team from Glossop District Scouts
Event Infrastructure: Simon Peers and the team from North Yorkshire Scouts.
ENTRY DETAILS
INCLUDED:
Custom Harvey Maps – so you can pretend you know where you're going.
Friday evening social – Food, drink & apprehension.
Friday night camping – To confirm your fears
Saturday campsite – Flat, dry & sheltered…..you wish.
Post event hot meal – Because a plastic medal won't warm you up
Bragging rights.
ABOUT THE TEAM:
Delivered by a team who literally wrote the book on mountain event safety.
We also wrote the book on how to run ecologically sustainable events.
The "Gold Standard" to the governing bodies & national parks.
Our safety & planning docs are open to all & used by most other providers.