HYDROSTATIC HEAD 20,000mm
Waterproof overshorts ensure water is carried past the bottom of the jacket and away from key areas where moisture and increased friction is not wanted. Our unique super stretch Kamleika fabric, combined with stretch seams and slimline fully taped seams, allows you to move freely so even without the rain they are a sensible mixed weather option and a great wind barrier.
SUPER STRETCH THAT MOVES WITH YOU
The Kamleika fabric provides the soft comfort of a baselayer by stretching to double its size. The incredible amount of stretch allows the shorts to move with you reducing energy loss and helping to maintain a natural unhindered running action.
MOUNTAIN SHELL PROTECTION
Designed and tested to withstand the relentless conditions faced by OMM competitors. 20,000mm hydrostatic head and 20,000gsm/24hrs breathability with the added durability of Nylon face fabric/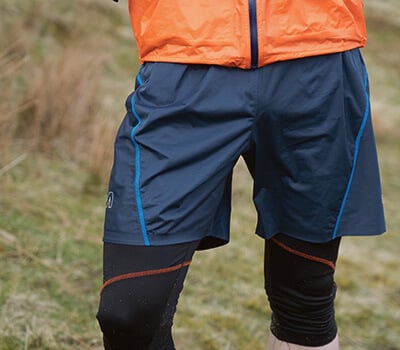 ACTIVE TEMPERATURE + MOISTURE MANAGEMENT
The 37.5 technology particles have been added to the Kamleika fabric to increase the moisture vapour management and maintain a comfortable active temperature. During testing runners wearing Kamleika with 37.5 Technology were able to maintain a stable temperature and regulate internal moisture when switching between flat running and ascents.
4 way stretch
Slimline fully taped seams
Waterproof
Windproof
Soft and quiet
Reflective print
Elasticated waist
No liner
Colours: Navy, Dark Grey
Fabric: Kamleika (stretch Nylon)
Weight: 75g
Sizes: XS / S / M / L / XL
Your Title Goes Here
Your content goes here. Edit or remove this text inline or in the module Content settings. You can also style every aspect of this content in the module Design settings and even apply custom CSS to this text in the module Advanced settings.
Shorts or Leggings?
Some runners will only wear a full length legging when there is a foot of snow on the ground and a howling gale. Some will even hold out then, opting instead for chapped legs and snow-burnt shins! What to wear whilst running is very personal choice but OMM offers a range of Legwear to cover (get it!) a wide range of options. For fast and light racing, check out the Speed Short, a classic split short made for going fast. Or for those in-between days go for the Flash 0.75, a 3/4 length tight that will see most through winter. When snow is on the ground it is a good idea to protect your shins, the Flash 1.0 will do just that. For multi-day adventures or wearing over a legging, the versatility of the PaceLite Short is a good option too. 
What about waterproofs?
 You will find our waterproof Legwear both here and over on the Outer Layer Page. So if you're looking for a full waterproof outfit to satisfy kit list needs, head over there. If you're just looking for stuff that covers your pins, you'll find it here.
Leg length and fit
 You can find our Size Guide via the link on each product page, this includes measurement ranges for each size. You can also find our Fit Guide there too. Our performances fabrics usually work best close to the skin and we make our Legwear in a relatively close fit to reduces drag and bulk whilst moving quickly in the mountains. Our leg lengths also reflect this; often shorter than traditional hiking or streetwear, this is to keep fabric out of the way of running feet. In the case of waterproofs, it is less essential to create a seal with your footwear, as with hiking overtrousers,  since you're likely to be plunging into rivers and bogs and most running footwear isn't waterproof. Some of our Legwear is a Unisex Fit, in which case it is often best to go down a size for Women.
Do we use Lycra?
Yes, a bit. We use Lycra in our Flash range of tights but not much. We could make them super stretchy, just like those fashionable high street leggings but we don't for a reason. Lycra is super stretchy, which is great, but other than that it doesn't have many other properties that a mountain runner might look for in a piece of Legwear. It is not very thermally insulating, very quick drying or wicking and can lead to quite a cool feeling against the skin; not what you want on a rain-soaked summit. So we keep the Lycra content to minimum and instead use clever panelling of the fabrics, orientating them to optimise the direction of stretch throughout the running motion; clever stuff!
Your Title Goes Here
Your content goes here. Edit or remove this text inline or in the module Content settings. You can also style every aspect of this content in the module Design settings and even apply custom CSS to this text in the module Advanced settings.
What is Hydrostatic Head?
 A measure of a fabric's waterproofness. Refers to how high a column of water, measured in millimetres, a fabric can withstand before allowing water through. Higher the number, the more waterproof the fabric.
Waterproof and Breathable?
 Breathable means the fabric allows transfer of water vapour. Driven by a difference in humidity either side of the fabric, measured in g/m2 over 24hrs. Waterproof means the membrane doesn't allow water droplets through from the outside and is measured in Hydrostatic Head (see above). This is acheived using a membrane which is a selectively permeable barrier. In fabrics, a waterproof membrane has holes big enough to allow water vapour through but small enough to not allow water droplets in and so remain waterproof yet breathable.
Which Outer Layer Do I Need?
 Well that depends, doesn't it! What is it for? Plodding around in heavy rain all day with a pack on or to carry just in case or to satisfy kit check? Do you value weight saving and low pack size over breathability and features? Do you want bells and whistles or stripped back performance? Does it need ot be waterproof at all or would a windproof do? The Kamleika is a soft and stretchy option with lots of freedom of movement and incredible comfort for a waterproof shell, it is full adjustable with full length zip and pockets. The Halo is a super-light option that still offers fully waterproof protection but with reduced breathability and durability, perfect for racing or when weight is key. The Kamlite uses a mixture of both fabrics to optimise performance. The Sonic range is windproof but has no membrane so i very breathable but will eventually let rain through. When choosing your Outer Layer, consider your priorities and then compare across the ranges. WE also have a useful comparison table on each product page. 
How do I care for my Outer Layer?
 Just like owning a top end sports car, a performance Outer Layer is only as good as how well you care for it. In the same way a sports car still needs oil changes and screen wash, you need to regularly maintain your OMM Clothing to keep it performing at its best. It is important to follow the Product Care Instructions and use the correct wash and proofer product as these can affect your clothing's performance. Check out our Product Care Guide for more information.