HYDROSTATIC HEAD 20,000mm
Waterproof overmitt for foul weather protection. Can be worn against the skin or over a glover or insulationg mitt. Constructed from the same stretch waterproof fabric as the Kamleika Jacket range for unrivalled protection and breathability in challenging conditions.
MOUNTAIN SHELL PROTECTION
Designed and tested to withstand the relentless conditions faced by OMM competitors. 20,000mm Hydrostatic head and 20,000gsm/24hrs breathbility alongside the durability of a Nylon face fabric.
ACTIVE TEMPERATURE MOISTURE MANAGEMENT
37.5 technology has been added to the Kamleika fabric to improve vapour management and maintain a comfortable active temperature. During testing, runners wearing Kamleika with 37.5 Technology were able to maintain a stable temperature and regulate internal moisture when switching between flat running and ascents.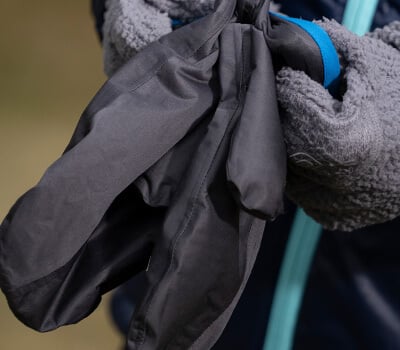 Using an overmitt allows you to easily switch between the warmth and protection of a mitt and the dexterity or heat-shedding of a thinner glove underneath.
Waterproof
Windproof
Soft and quiet face fabric
Reflective logo
Stretch fit
Extended cuffs
Low bulk construction
Colours: Dark Grey, Green
Fabric: Kamleika
Weight: 30g (pair)
Sizes S / M / L
Your Title Goes Here
Your content goes here. Edit or remove this text inline or in the module Content settings. You can also style every aspect of this content in the module Design settings and even apply custom CSS to this text in the module Advanced settings.
What is Hydrostatic Head?
 A measure of a fabric's waterproofness. Refers to how high a column of water, measured in millimetres, a fabric can withstand before allowing water through. Higher the number, the more waterproof the fabric.
Waterproof and Breathable?
 Breathable means the fabric allows transfer of water vapour. Driven by a difference in humidity either side of the fabric, measured in g/m2 over 24hrs. Waterproof means the membrane doesn't allow water droplets through from the outside and is measured in Hydrostatic Head (see above). This is acheived using a membrane which is a selectively permeable barrier. In fabrics, a waterproof membrane has holes big enough to allow water vapour through but small enough to not allow water droplets in and so remain waterproof yet breathable.
Which Outer Layer Do I Need?
 Well that depends, doesn't it! What is it for? Plodding around in heavy rain all day with a pack on or to carry just in case or to satisfy kit check? Do you value weight saving and low pack size over breathability and features? Do you want bells and whistles or stripped back performance? Does it need ot be waterproof at all or would a windproof do? The Kamleika is a soft and stretchy option with lots of freedom of movement and incredible comfort for a waterproof shell, it is full adjustable with full length zip and pockets. The Halo is a super-light option that still offers fully waterproof protection but with reduced breathability and durability, perfect for racing or when weight is key. The Kamlite uses a mixture of both fabrics to optimise performance. The Sonic range is windproof but has no membrane so i very breathable but will eventually let rain through. When choosing your Outer Layer, consider your priorities and then compare across the ranges. WE also have a useful comparison table on each product page. 
How do I care for my Outer Layer?
 Just like owning a top end sports car, a performance Outer Layer is only as good as how well you care for it. In the same way a sports car still needs oil changes and screen wash, you need to regularly maintain your OMM Clothing to keep it performing at its best. It is important to follow the Product Care Instructions and use the correct wash and proofer product as these can affect your clothing's performance. Check out our Product Care Guide for more information. 
Your Title Goes Here
Your content goes here. Edit or remove this text inline or in the module Content settings. You can also style every aspect of this content in the module Design settings and even apply custom CSS to this text in the module Advanced settings.
What's the sizing like?
 You can find our Size Guide via the link on each product page, this includes measurement ranges for each size of hats & gloves. Our hats & gloves are unisex so it is often worth checking the size guide to ensure you get the right one. Some of our headwear is one size, this is because the stretch properties of the materials used allow it to cover a larger range. 
Can I return it if it doesn't fit?
 Yes! Our returns period is 14 days from receipt of the item. As long as the labels are attached, the clothing is unworn (except to try on) and the original packaging still intact (i.e. the clear poly bag it may have been wrapped in). Unwanted or unsuitable items are returned at your cost but exchanges are free to send back out. The returns address and details can be found on the packing slip included with your order. In case of a suspected warranty issue, follow the instructions on the packing slip or contact our support team: support@theomm.com
What materials do we use?
 We use a mix of performance fabrics in our hats & gloves that are designed to wick sweat and dry quickly whilst also being lightweight and low bulk in order to meet the demands of the mountain runner. For this reason, we do not use any cotton, wool (including merino) or leather. Most of our clothing uses variants of Nylon and Polyester. We then also include stretch elements such as elastane and chemical treatments (DWR) for water repellancy where needed. We work closely with manufacturers such as PrimaLoft to ensure we use the highest quality materials to achieve the best performance for the weight. 
Glove or Mitt?
 Both! well, maybe its not that simple. It depends on your priorities whilst running. Do you need to use your phone or touchscreen device? In which case go glove with e-tip. Or is warmth and weather protection the priority, in which case go for the Core Mitt and pair it up with the Kamleika Overmitt to seal out the bad weather. This is the warmest option from our range but it is also possible to pair the Kamleika Overmitt with a pair of gloves for the best of both worlds. A mitt will always be warmer than equivalent gloves, since your fingers are all in there together sharing their warmth!