HYDROSTATIC HEAD 20,000/10,000mm
BREATHABILITY 20,000/10,000gm2
The Kamlite Smock makes the most of our fabric technologies and maps them to the runner's body to achieve the optimum combination of protection, breathability, stretch and weight saving. Designed to focus on those moving quickly in wet conditions, the KamLite maximises comfort for the user whilst protecting against the elements and minimising weight. Venting is through the deep two-way zip on the front and thumb loops help to extend the jacket over gloves for additional protection. Combining stretch Kamleika fabric where it is needed alongside lighter weight PointZero H20, as used in the Halo series, we are able to balance protection and freedom of movement with weight saving and low bulk.
HYBRID SHELL - PROTECTION WHERE YOU NEED IT MOST
A body-mapped combination of PointZero H2O and Kamleika technologies to produce a waterproof smock with the stretch and waterproofing qualities of Kamleika fabric (20,000mm Hydrostatic Head, 20,000gsm/24hrs breathability) where you need it and uses PointZero H2O fabric (10,000 and 10,000) everywhere else, to drive weight even lower.
HYBRID SHELL - BREATHABILITY WHERE YOU NEED IT
Breathable Kamleika with 37.5 for areas that are in constant contact with the body gives enhanced breathability whilst PointZero H2O fabric on looser areas saves on weight where fabric breathing is less efficient. Kamleika wicks moisture away and prevents overheating.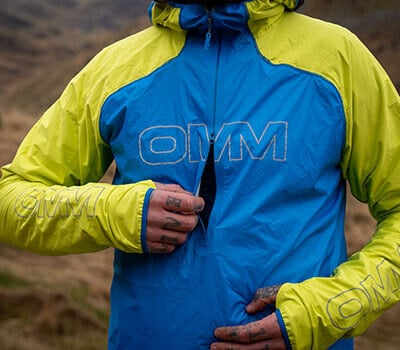 MOUNTAIN SHELL PROTECTION
Waist, wrist closures seal the jacket to maximise protection and provides a secure, silent fit in high winds. The newly reshaped hood offers a close fit against high winds and pelting rain whilst the Nylon face fabric in the Kamleika offers increased protection against brushes with the terrain.
Waterproof
Windproof
Active cut with slimline fully taped seams
Fully adjustable hood with laminated peak
2 way half length YKK Aquaguard zip
Extended cuff thumbloops
Dynamic Droptail
Reflective logos and print
Colours: Black/Grey, Blue/Yellow
Fabric: Kamleika (stretch nylon)/PointZero H20 (static nylon)
Weight: 190g
Sizes: XS / S / M / L / XL
Your Title Goes Here
Your content goes here. Edit or remove this text inline or in the module Content settings. You can also style every aspect of this content in the module Design settings and even apply custom CSS to this text in the module Advanced settings.
What is Hydrostatic Head?
 A measure of a fabric's waterproofness. Refers to how high a column of water, measured in millimetres, a fabric can withstand before allowing water through. Higher the number, the more waterproof the fabric.
Waterproof and Breathable?
 Breathable means the fabric allows transfer of water vapour. Driven by a difference in humidity either side of the fabric, measured in g/m2 over 24hrs. Waterproof means the membrane doesn't allow water droplets through from the outside and is measured in Hydrostatic Head (see above). This is acheived using a membrane which is a selectively permeable barrier. In fabrics, a waterproof membrane has holes big enough to allow water vapour through but small enough to not allow water droplets in and so remain waterproof yet breathable.
Which Outer Layer Do I Need?
 Well that depends, doesn't it! What is it for? Plodding around in heavy rain all day with a pack on or to carry just in case or to satisfy kit check? Do you value weight saving and low pack size over breathability and features? Do you want bells and whistles or stripped back performance? Does it need ot be waterproof at all or would a windproof do? The Kamleika is a soft and stretchy option with lots of freedom of movement and incredible comfort for a waterproof shell, it is full adjustable with full length zip and pockets. The Halo is a super-light option that still offers fully waterproof protection but with reduced breathability and durability, perfect for racing or when weight is key. The Kamlite uses a mixture of both fabrics to optimise performance. The Sonic range is windproof but has no membrane so i very breathable but will eventually let rain through. When choosing your Outer Layer, consider your priorities and then compare across the ranges. WE also have a useful comparison table on each product page. 
How do I care for my Outer Layer?
 Just like owning a top end sports car, a performance Outer Layer is only as good as how well you care for it. In the same way a sports car still needs oil changes and screen wash, you need to regularly maintain your OMM Clothing to keep it performing at its best. It is important to follow the Product Care Instructions and use the correct wash and proofer product as these can affect your clothing's performance. Check out our Product Care Guide for more information.